Laundry Services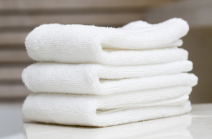 Our laundry service is unlike anything currently provided in the area.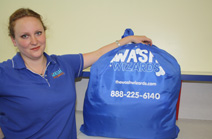 We understand how important your clothes are to you, which is why we take the utmost care in returning them in the best possible condition. We offer the full spectrum of laundry services to be picked up from your home or business, brought back to our facilities, washed, dried and folded or hung directly out of the dryer.
We offer:
Wash and Fold
Dry and Fluff
Dry Cleaning
Free Pick Up and Delivery within 24 Hours
To make use of this handy service you would:
Register, let us know your specifications, and we will have a driver out within 24 hours to pick up your laundry. A free cloth laundry bag is provided on the first pick up for your continued use.
We would then take it back to our facilities where it will be weighed and washed with our high quality, hypoallergenic detergent and softener.
When the wash is done it is taken immediately to be dried and fluffed, (dryer sheets upon request).
As soon as your clothes are dry we take them out right away to be folded or hung as specified by you, as well as any other services you may have requested.
At this point it will all be packed up tight and tidy to be returned to your home the following day.
It is our pleasure to ensure you ease of use and a quality product. Our family looks forward to helping you and your family take a load off (pun intended) from the never ending story that is laundry.
Schedule on YOUR time: let us know when we can pick up and drop off to fit your schedule (if you would rather they were left on the porch, we can do that, too).
Sit back and enjoy the free time: it's a chore we take for you, so enjoy your coffee, read the paper, play with the kids and let us do the work.
Questions? (888) 225-6140 or support@thewashwizards.com.
Service Areas:
Los Angeles: Monterey Hills (90032), Eagle Rock (90041), Highland Park (90042, 90065), Altadena (91001), Arcadia (91006, 91007), Duarte (91008, 91010), La Canada (91011), Monrovia (91016), Sierra Madre (91024), South Pasadena (91030), Pasadena (91101, 91103, 91104, 91105, 91106, 91107), San Marino (91108), Glendale (91201, 91202, 91203, 91204, 91205, 91206, 91207), Burbank (91501, 91502, 91504, 91505, 91506), Azusa (91702), Baldwin Park (91706), Covina (91722, 91723, 91724), El Monte (91731, 91732, 91732), South El Monte (91733), Glendora (91740), La Puente (91744, 91746, 91750), Monterey Park (91754, 91755), Pomona (91766, 91768), Rosemead (91770), San Dimas (91773), San Gabriel (91775, 91776), Walnut (91789), West Covina (91790, 91791, 91792,) Alhambra (91801, 91801), North Hollywood, Beverly Hills, Woodland Hills, West Hollywood, Granada Hills, Canoga Park, Sherman Oaks, Culver City, La Crescenta-Montrose, Northridge, Tarzana, Mission Hills, Valley Village, Encino, Pacoima, San Fernando, Universal City, Van Nuys, Reseda.
Ventura: Auguora Hills (91301), Newberry Park (91320), Thousand Oaks (91360, 91362), Westlake Village (91361), Oak Park (91377), Ventura (93001, 93003, 93004), Camarillo (93010, 93012), Fillmore (93015), Moorpark (93021), Oak View (93022), Ojai (93023), Oxnard (93030, 93033, 93035, 93036), Piru (93040), Port Hueneme (93041), Port Mugu (93042, 93043), Santa Paula (93060), Simi Valley (93063, 93065, 93099), Somis (93066), Brandies (93064),